Nomination Form
Beverly Faull Affordable Housing Leadership Award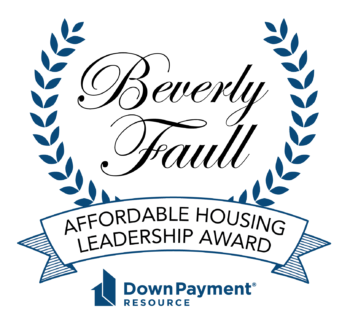 The Beverly Faull Affordable Housing Leadership Award is named in memory of accomplished real estate veteran Beverly Faull and recognizes an individual who has demonstrated leadership in providing more access to homeownership and affordable housing finance solutions.
As a well respected veteran in the MLS and housing industry and one of Down Payment Resource's (DPR) first employees, Faull truly believed in the company's mission to provide greater access and awareness to down payment assistance programs.
Objective:
The ideal candidate will be an individual or organization who has demonstrated leadership, passion, tireless commitment and results in providing more access to homeownership and affordable housing finance solutions.
Frequently Asked Questions:
When do nominations begin?
Nominations open July 11th.
When will DPR select the award recipient?
Nominations are due by October 14th and the recipient will be announced in January 2023.
Who decides the award recipient?
A special committee has been designated to review all of the nominations, evaluate their submissions, then decide collectively as a team.
Is a prize awarded?
Yes, Down Payment Resource will make a $2,500 donation to the affordable housing-related non-profit of the winner's choice.
How can I nominate someone?
Nominations must be submitted online via the link provided.
Can I nominate someone anonymously?
No, because we need to know who you are in case we need any additional information from you, though we do not share nominator information with any third parties.
Can I nominate myself?
Yes.
What is required of the award recipient?
DPR may ask for a high-resolution photograph of the award recipient, along with an interview for future communications. The award recipient will be able to review all communications prior to publication.
Who do I contact if I have questions?
Contact Melinda Harris at mharris@downpaymentresource.com. with any questions regarding nominations or submissions.